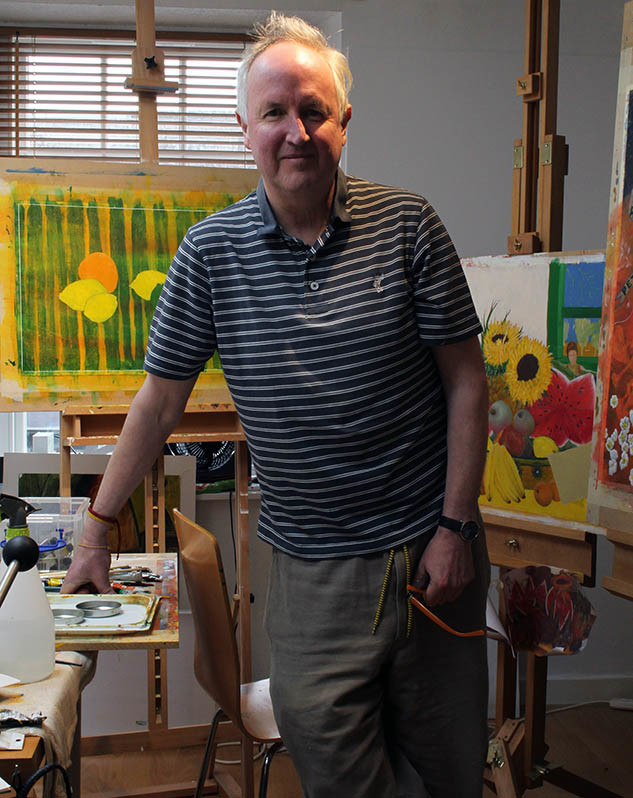 About
Ian Moutter is a multi-tasker artist based in the Borders of Scotland, "I look out of my front windows and see England and out of my back windows I see Scotland". On leaving school, and being forced to choose something, he opted for his favourite pastime Art. Art college and he failed to get on, "Looking back I was a bit wild and there was so much to experience". Needless to say he and college parted ways and he headed down to Cornwall, eventually living for a time in the last house at Lands End, before Lands End became a tourist mecca. "Living at Carn Grebe cottage was wonderful, the light was stunning and I could live on pennies. I have a couple of small paintings from that time, painted on an envelope and scrap paper, there was no money for materials".
London, Bristol, Bath, Glasgow and Edinburgh featured over the years, until moving to the Scottish Borders  and finally settling by the border itself. "Borders are always fascinating; land borders, the borders between land and water, land and sky, water and sky, the border between people and between people and objects, this interaction is always a place of drama and interest".
Finally, after many years of dabbling in painting, drawing, writing and book illustration, Ian resolved to concentrate on his art. "I'd no idea where it would go, but I had reach an age where, if I didn't do it now, I never would and that was unacceptable to me".
Since making that decision Ian has concentrated on developing and creating his art, throwing himself into painting, drawing, collage, mono, intaglio and relief printing. "It seemed like I picked up from where I left off so many years ago, getting on with what needed to be done".